Same Parents, Different Kids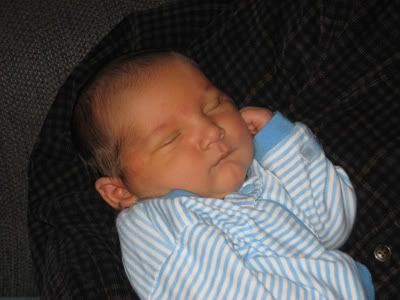 On October 1, my wife gave birth to our second child, a son. The story of his birth and our early days are all up at my personal blog (link at the bottom of this post), if you are interested.
Babies are made up of one half mother and one half father. Given this logic, one would assume that there would be some similarities between two babies from the same parents. I am here to tell you that nothing could be further from the truth.
my daughter could not latch properly at first, dropped weight, and became dehydrated; my son is a breastfeeding champ, in spite of a much shorter tongue than his sister, and has steadily gained weight
my daughter had no hair for almost a year; my son had a full head of hair at birth
my daughter never slept longer than three hours at a time (and only occasionally at that) until she was well over six months old; my son has gone for five hours occasionally (when my wife sleeps through her four hour alarm) and regularly can go three or four hours in the night

my daughter loved to lie naked to "air out" and help avoid diaper rashes; my son screams like we are tormenting him with hot pokers (or videos of presidential debates, take your pick) whenever he is stripped down (diaper changes included)
my daughter loved to just chill in our arms and listen to us talk to her; my son will physically push us away so he can look around the room and determine the best viewing angle for the shadows on our ceilings
my daughter loved to take naps on her daddy, settling in for a nice long cuddle; my son loves to nap on his daddy too
OK, so maybe they aren't completely different, but I still find it fascinating to see how the same genetic material can produce such dramatically different kids.
(And yes, the images in this post are of my son.)
---
You can read more SciFi Dad at Tales From The Dad Side.